* All orders must be of a minimum 100$US value before taxes.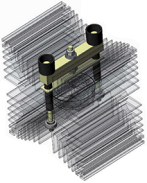 Iconopower offers a range of standard or custom high precision semiconductor clamps able to accomodate the full range of press pack semiconductors, from 4kN to 50kN (900lbsf - 11250lbsf) and 19mm to 75mm. Browse our bar clamp catalogue.
Our manufactured clamps feature:
unlimited clamping range,
simple visual installation system,
individual calibration,
ROHS compliance
Each clamp is individually calibrated. The pre-calibrated force indicator eliminates the need for any special equipment or torque wrenches.
We also manufacture custom clamp designs:
Not every clamp you require may be from our standard range. Let Iconopower's experienced team work with you to provide a clamping solution specific to your individual needs. Upon your selection, we can provide you with a detailed dimensioned drawing specific to your requirement.