* All orders must be of a minimum 100$US value before taxes.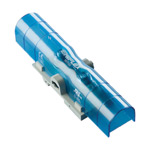 Erico offers a wide range of halogen free power terminals and fixing assemblies. The key features include:
gangable tinned copper blocks,
aluminium or copper connections,
IP 20 protection/UL finger-safe,
visual inspection of wire,
hinged/removable cover for easy wiring, and
clip on DIN Rail or screw mount for easy fixing.