* All orders must be of a minimum 100$US value before taxes.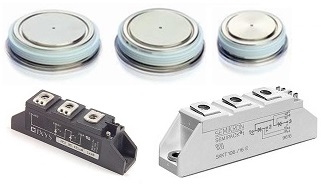 Thyristors are typically used as phase-controlled current valves for AC - DC conversion, operating at low frequencies. In the conducting state, thyristors feature very low losses, making them attractive devices to efficiently control very high currents and energies. Our thyristors are offered in:
dual or single topologies,
soldered contact, bonded contact or pressure contact modules,
voltages up to 2200V, and
amperage up to 1200A.
The reverse conducting thyristor (RCT) is differentiating itself from the normal high power thyristor by having an integrated reverse diode. Because of the reverse diode this thyristor is not capable of reverse blocking. These devices are advantageous where a reverse or freewheel diode must be used. Reverse conducting thyristors are often used in frequency changers and inverters.