* All orders must be of a minimum 100$US value before taxes.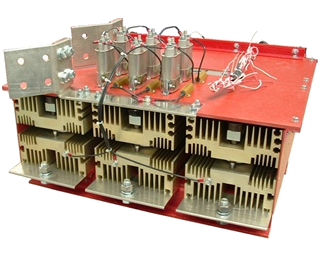 Iconopower offers a full line of high current press pack power semiconductor assemblies in both air and water cooled designs.
Choose from dozens of our air cooled aluminum extrusions to support your high current semiconductor. For water cooled assemblies we offer heatsinks either aluminum or copper designs. All circuit configurations are available using:
high intensity diodes, thyristors or IGBTs,
RC networks,
dampers,
fuses,
fuse Indicators,
temperature sensors, and
firing/ignition circuits with Thyristors, GTOs or IGBTs.