* All orders must be of a minimum 100$US value before taxes.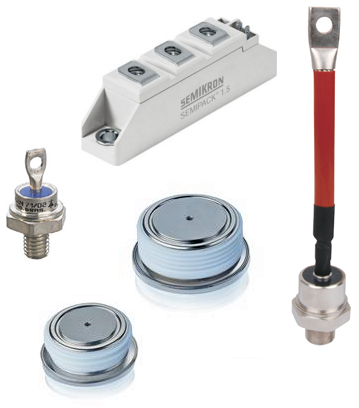 Diodes can be subdivided into two main classes:
Rectifier diodes (standard recovery) can be split into two sub-classes:

Normal recovery Diodes

for conversion of AC (alternating current) to DC (direct current),
optimized for low conduction losses,
able to handle very large currents , and
able to withstand only moderate dynamic stress in transition from conducting to the blocking state.

Avalanche Diodes
self protected against transient over-voltages.
Fast recovery diodes are typically used in drives, neutral point clamp diodes, metal melting/electrolysis , snubber diodes and input rectifiers for AC drives. These devices feature:
32 up to 96 mm wafer,
175 A up to 13500 A,
200 V up to 6000 V, and
free floating, LTB and alloyed technology.