* All orders must be of a minimum 100$US value before taxes.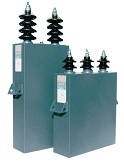 Ducati Energia's offering of power capacitors for medium voltage network includes a range of single and three-phase capacitors up to 800 kVAr with maximum HSV of 36kV. Upon request, Ducati will design customized systems according to a specific application using:
current transformers,
voltage transformers,
relays,
internal fuses,
stainless steel cases,
inrush reactors, and
expulsion fuses.